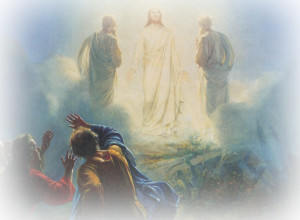 As I walked into Mass today my cell phone rang and it was a favorite client. I mentioned I was "walking into a meeting" and could I call him back? Of course.
Still, I walked in at the second reading. The Gospel was rather providential. The morning was  terribly stressful. There's just so much work we can't keep up. It's incredible… as though the floodgates of heaven have opened up and drenched me in prosperity. I am so grateful.
However, it is harder and harder to get away at noon. So when I walked in a few minutes late again, I was greeted by the reading (John 6:37-40) that told the story of the man who prepared a banquet and sent his servants to gather the guests. The first said he just bought land and had to go to care for the land. The second just bought oxen and needed to inspect the cattle. The third had just gotten married (fool!) and could not come.
Furious! as he should have been, he instructed the servants to gather those in the streets to come and feast. Let's just say I was glad I had made the time to show up at Mass. Whew.
As usual, I can't for the life of me connect the ensuing homily with the ready… until the finale. Father concludes with,"We must serve one another with a selfless love, with zeal… irregardless."
I smiled so hard I almost broke out in laughter, which would have been mightily misunderstood, no doubt.
"Irregardless," which is NOT a word in the English language, was a drop-in visit by my darling grandma, a saint among sinners, peace-maker like no other and gentle spirit for who's soul I pray daily.
Today, my grandma is found in such words, and she popped in for a visit with me at Mass today. What a joy to see her.
Like the transformation, it was good that I was there.